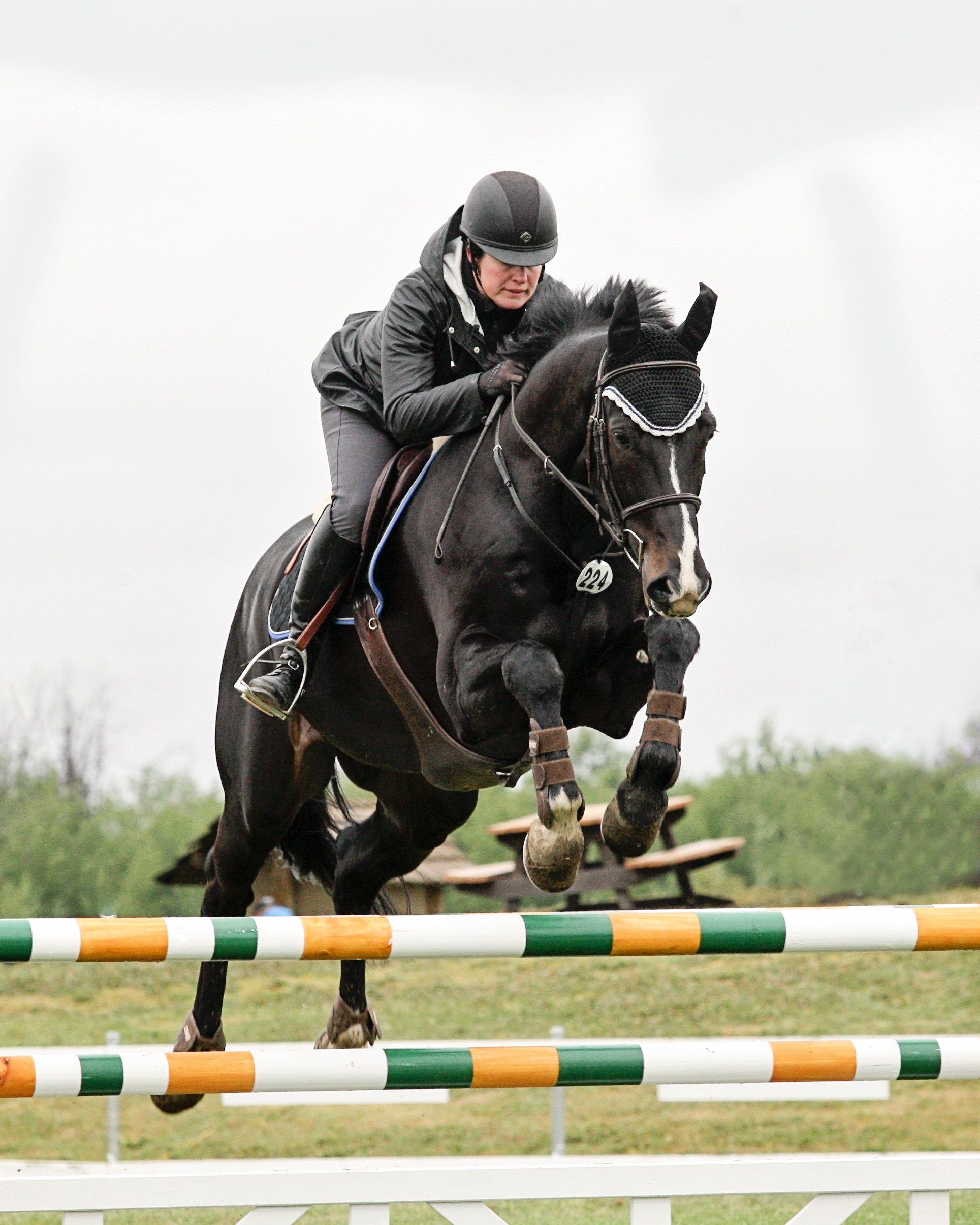 Carter
2008 16.2hh Hann Gelding
Clinton I x Eiger I
Carter is a dream to ride and show, safe, honest with plenty of scope to take care of his rider -- SOLD --
Klover 2015 chestnut mare
Tacorde x Delilah (Zeno)
This Tacorde x Zeno filly is a gorgeous big solid girl with a lot of chrome. She has been well worked with and lightly free jumped and shows a lot of scope along with very good technique. She is long legged with four high white socks and a thin blaze, her canter is fantastic and she has a nice trot with minimal knee action. She will be a lovely jumper or big EQ horse and is easy enough for an experience amatuer to take on and have great success with.
Her sire Tacorde jumped at the top level of the sport for several seasons, proving that he had the soundness, the ability and the desire to compete at the highest levels. His offspring from very limited foal crops are starting to compete up the levels and one mare out of a TB dam is now doing the 1.30m with several young ones looking very promising.
Her Dam Delilah was a fantastic mare to ride and train with a great attitude and work ethic. She jumped in fantastic form with a lot of scope. She showed only a few times and was reserve champion in the hunter ring at all of her shows. Klover is her first foal. ~ Mature height 16.2-3hh Price -SOLD-
| | | |
| --- | --- | --- |
| | | |
| Dam: Delilah | Klover | Klover |
Huck Finn 2012 bay gelding
(Talme x Cencibel (Tempranillo x Fils du Lully))
Huck has a wonderful mind and has shown great trainability who is nicely w/t/c. He jumps in fantastic form just like all of the offspring from this mother-line and his movement will get a piece of the hack against the toughest company. He is a gorgeous boy who will mature in the 16.2hh range. His mother is a lovely amateur hunter mare who also goes for trail rides and is a pet, his grand mother has produced numerous excellent performance horses who all jump in great form and move exceptionally well. -- SOLD --
YouTube: https://youtu.be/erjn6zK8sVI
| | | |
| --- | --- | --- |
| | | |
| Huck Finn | Huck Finn | Huck Finn |
Idanga 2013 bay mare
Talme x Zedenga (Mermus R x Voltaire)
Idanga is an excellent mover and jumps in very good form, she is a sensitive mare and will need some time to mature mentally but with good consistent work she will be a wonderful Jr/Am horse. She is lightly started under saddle walk, trot and canter and is gaining confidence. She will make a great investment horse for a young trainer to spend time on and then resell in the future, she is a quality enough horse to be a small hunter or could also be a really fun event horse. She is very athletic with a big, lovely canter and has a natural lead change.
Her sire Talme has produced for us very nice, amateur friendly horses who have gone on to be successful hunters, eventers and dressage horses and are nearly all trained by amateur's.
Her dam Zedanga was imported from Holland as a young horse and after being started we put her into the broodmare band as her bloodlines are very good. Zedenga comes from a mother-line of solid performance horses who compete in both the jumper rings and dressage. Idanga would be very valuable as a broodmare with her strong mother-line. Mature height ~15.3hh Price Category 'A'
Under saddle and free jumping video from January 2017
| | | |
| --- | --- | --- |
| | | |
| Dam: Zedanga | Idanga | Idanga |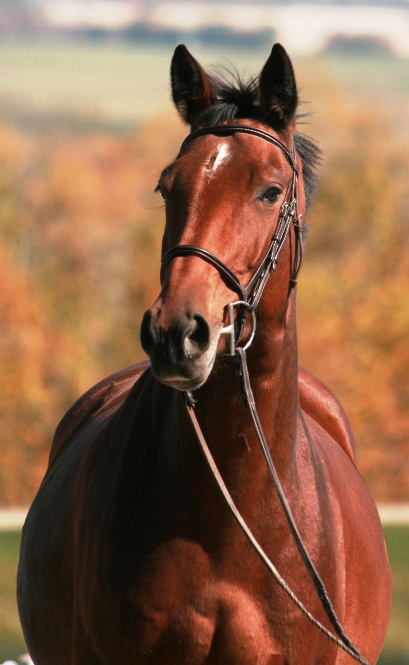 Gorgeous
2011 CWB mare 16.1 HH
Talme x Tempranillo
Gorgeous is a fantastic young mare who is going nicely under saddle and jumping around courses
Jester 2014 chestnut gelding
Zeno x Dolce Vida (Talme x Fils du Lully)
This Jester is a gorgeous hunter/hunter derby prospect who has it all, he is a 10 mover, a 10 jumper and has the most amazing temperament. He has been lightly backed in the fall of 2016 and was a pleasure to work with and will be ready for the 3 year old futurities in 2017. He is incredibly kind on the ground, very good for all routine care including clipping, mane pulling, bathing and grooming. He is always the first one to meet you even when he is out in the 80 acres field. This long legged, elegant young gelding is going to be the barn favourite no matter where he goes.
Jester's sire Zeno excelled in the hunters and hunter derbies before becoming a GP jumper. He became champion or reserve every time shown in both AB and CA in the conformation hunters and the open combined, the judges loved him and they are going to love Jester too!
Jester's dam Dolce is a much loved amateur hunter who moves beautifully and jumps in perfect form. She comes from a mother-line that has consistently produced amateur hunters no matter what stallion they are crossed with and she has several full and half siblings competing all over NA in the hunter ring. SOLD to Texas
| | | |
| --- | --- | --- |
| | | |
| Dam: Dolce Vida (Talme x Fils du Lully) | Jester | Jester |
Free video from fall of 2016: https://www.youtube.com/watch?v=s7zmgVOY-Pk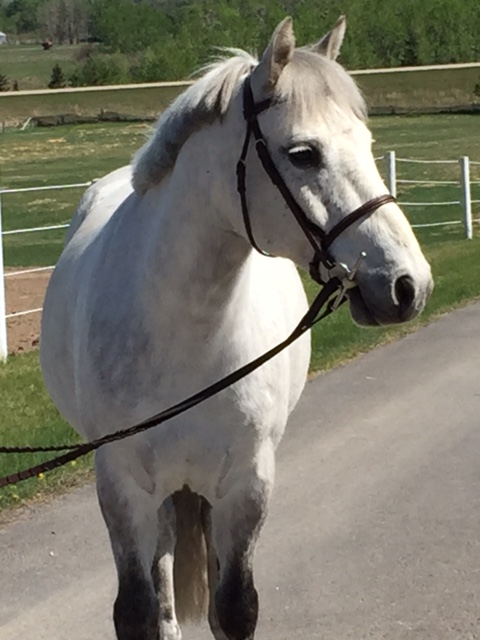 Cricket
2007 Pony Gelding 13.3 HH
Cricket is currently being used in our lesson program but would be a perfect first pony for a kid to learn on -SOLD-
Cuzco 2012 buckskin gelding
(Tyrol Rouge x Elita)
Cuzco is a hunter dream in the most gorgeous package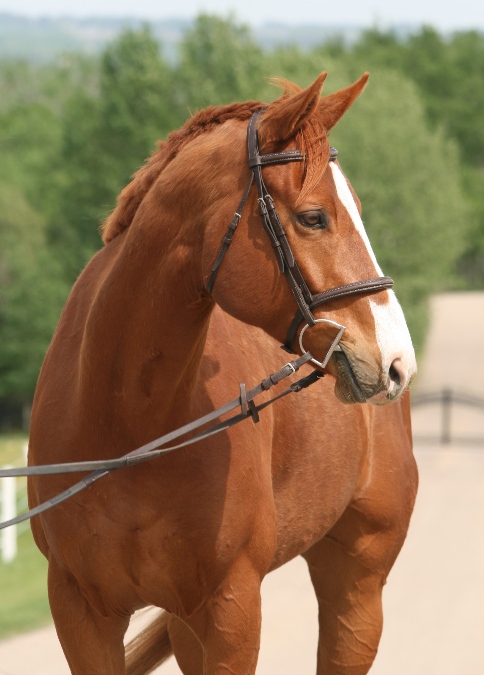 Dare to Dream
2010 TB gelding 16.3 HH
Desktop x Northern Baby
Major is competing at the 1.10m jumper level and is an absolute sweetheart with a great character
Izzabria 2013 chestnut mare
Tacorde x Volibria (Calvados x Damiro)
For the serious jumper rider! She is a power house of a mare with a huge jump and a puppy dog personality. She is a typical Tacorde, loves to work, has a bit of spice and once she understands what you want will do anything for you. She also has the typical soft mouth of the Tacorde's so needs a soft rider. Her mother competed up to 1.30m and achieved her Preferent status with the KWPN before being imported. This mare has serious Grand Prix potential and is not for a nervous rider. She will mature in the 17.2hh range - Sold –
| | |
| --- | --- |
| | |
| Sire: Tacorde | Izzabria |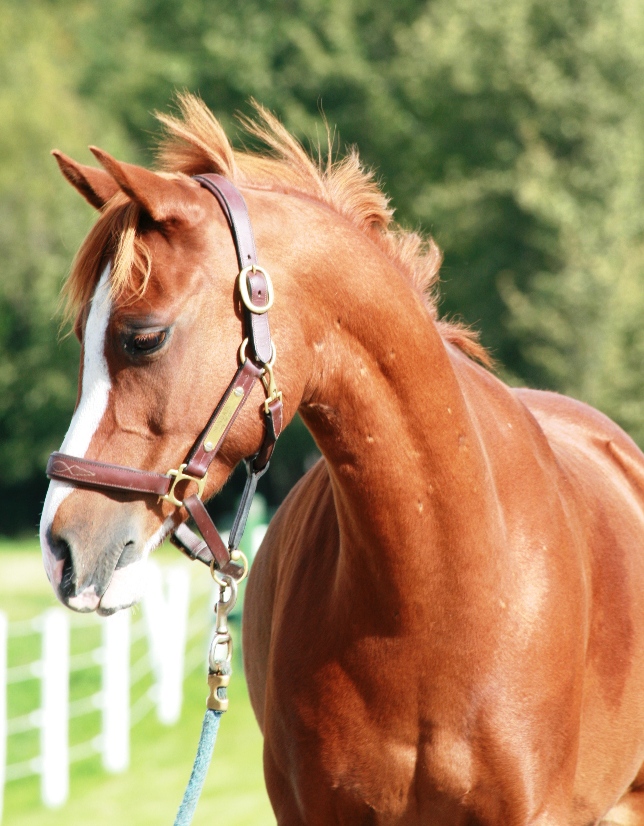 Sondais
2007 Welsh cross gelding 14.1 HH
Cadlan Valley Cardinal x Daisy
Sondais has brought his owner from the cross poles up to the rated pony division and is now ready to teach his next little person the ropes ~ Sold~
Jorlanda 2014 bay mare
(Orlando x Wendy (Indorado x Rex Magna xx))
Jorlanda is a solid girl with good bone. She is a more sensitive type who is very careful through the chute while still maintaining her boldness. This filly is out of Wendy who has produced Elle Carrera who is at 7 years old winning in the 1.30m and looking like her scope is endless as well as a winning 1.45m Toulon (Heartbreaker) horse in Europe. This mother-line is STAMM line 1001 which is proving to be one of the top mare-lines in Europe right now. Wendy is half sister to two 1.60m jumpers and one 1.30m horse, all of the mares have gone straight to breeding as they are proving to be so valuable in the breeding shed. Jorlando herself shows to have the scope and talent to be a top jumper mare as well as a very valuable broodmare for the future. Mature 16.2hh -- SOLD --
| | | |
| --- | --- | --- |
| | | |
| Sire: Orlando (Heartbreaker x Darco) | Orlando | Jorlanda |
Hiroko
2012 Chestnut 16.3 hh Approved CWB and Bronze Premium CSH
Tacorde x Burggraaf x Voltaire x Dulf
Hiroko is a lovely young stallion with an excellent temperament and huge jumping ability