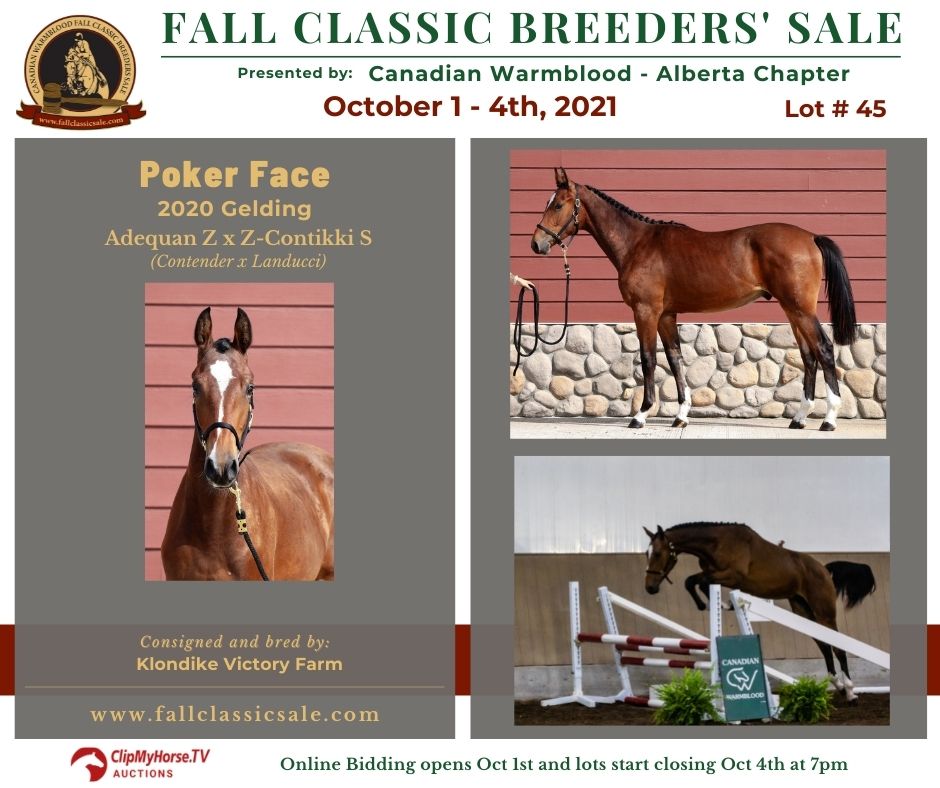 Poker Face

Lot #45 Consigned to the Fall Classic Sale
2020 Bay CWB Gelding, will mature 16.1hh+
Adequan JVH Z x Contender x Landucci


Poker Face is a well put together yearling with the athletic ability and the genetics to go all the way in the show jumping arena. He has a very well-balanced canter with great natural instincts when being worked with. He is one of very few offspring from the fantastic up and coming young stallion Adequan Z and is a half-brother to Ilana (s. Tacorde) who has made her 1.45m debut at 8 years old with a Jr rider. The future looks bright for this flashy athlete.
Sire: Adequan JVH Z has just moved up to the 1.45m level at 8 years old with Piet van Genugten and is showing all of the quality and ability to become an international Grand Prix horse. His rideability is second to none, he is careful with an exceptional hind-end and has all the scope – all ingredients to make it to the top. Adequan's sire Armstrong vd Kapel competed at the highest level with Olivier Philippaerts, securing the Nations Cup wins at both Hickstead and Lummen. Of 5 foals from Adequan's dam 3 are competing at or above the 1.45m level and the other two are on their way up.
Dam: Z-Contikki S, who was purchased out of the Fall Classic Sale in 2010, has been a fantastic producer for KVF with her oldest Ilana (s. Tacorde) just stepping into the 1.45m with her Jr rider. Her other offspring are just 4 years old and younger. This gorgeous Contender daughter is a half sister to 2 FEI horses with her dam only producing 4 foals. Contikki brings to the table the will to win, carefulness with scope and longer lines.
Poker Face - Lot 45 from Canadian Warmblood Auction on Vimeo.