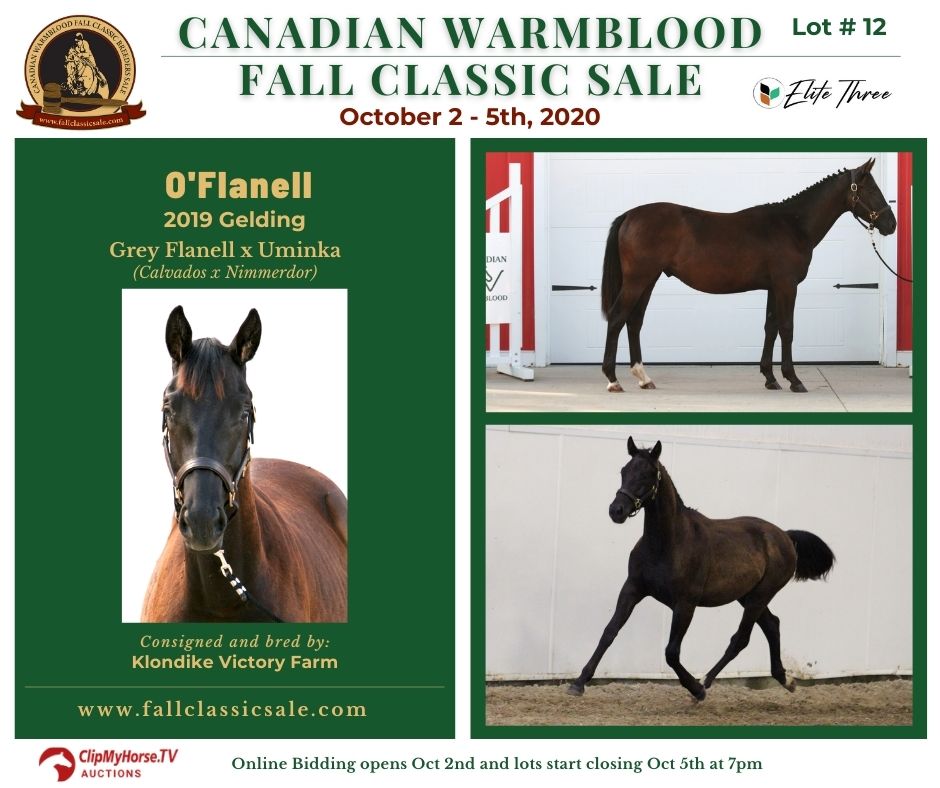 O'Flanell

Lot #12 Consigned to the Fall Classic Sale
2019 black GOV gelding
Grey Flanell x Calvados x Nimmerdor
O'Flanell is a gorgeous black gelding who has been inspected with GOV and received good comments from the judging panel including 'good active use of the hindleg and a very balanced and uphill canter. O'Flanell was bred with the amateur rider in mind, combining the dressage talent of Grey Flanell and adding the good amateur rideability and jump from Uminka. He shows very uphill and balanced movement with an impressive jump, he will excel in the event world with his great movement combined with his good instincts through the jump chute. O'Flanell has been well handled for all routine vet and farrier work. He has been allowed to grow up in a herd with his peers learning proper herd dynamics and respect. The full sister to O'Flanell was sold to a top dressage barn.
Sire Grey Flanell combines highly interesting bloodlines and a brilliant type with three exceptional gaits. He is now competing at the Grand Prix level and is impressing with his outstanding walk, enormous power from behind and his overall quality. His offspring have been highly regarded in Germany with several licensed sons and multiple daughters being awarded elite status. They have been very well received at auction as well, with a daughter selling for 165,000 Euro in 2019.
Dam Uminka competed in the 1.20m jumpers with a Jr rider and has produced both very talented dressage and jumping horses. All of her offspring have been amateur produced, she has one who competed to 3rd level dressage, another who did the 1.15m jumpers before becoming a Para Dressage horse, and another who is a much-loved hunter. Uminka has the same mother-line as Totilas so it is no surprise that her offspring are multi-talented.