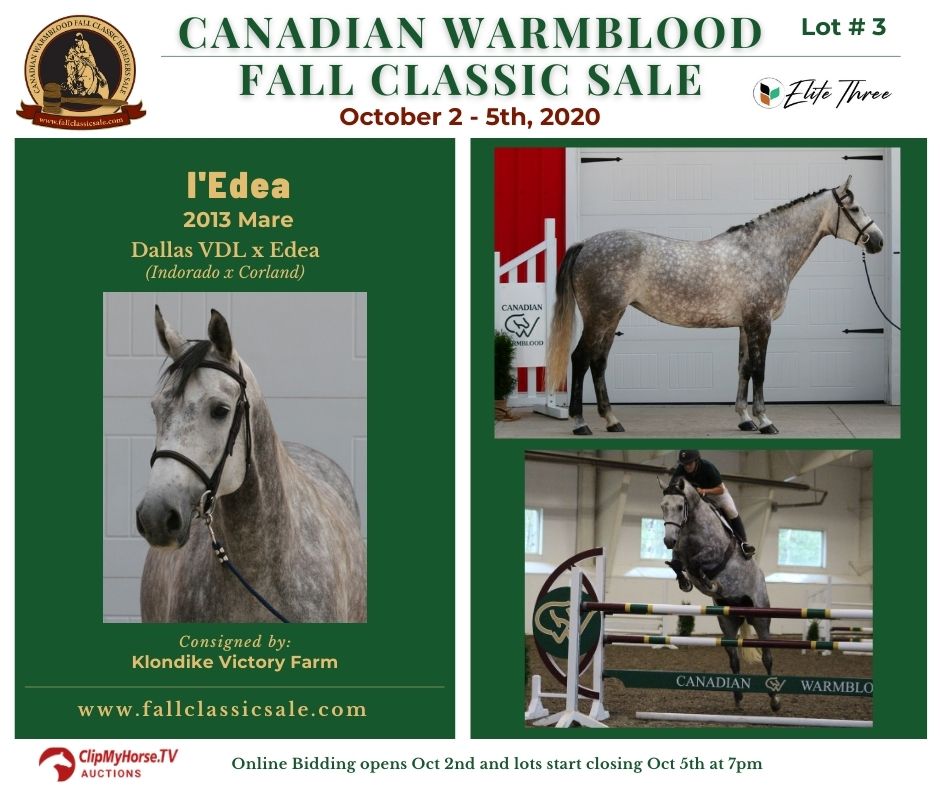 I-Edea

Lot #3 Consigned to the Fall Classic Sale
2013 grey 17hh KWPN mare
Dallas VDL x Indorado x Corland
I-Edea is a large, scopey mare with incredible jumper bloodlines. Her pedigree is full of horses that competed at the 1.50m's and 1.60m's. She is a long lined, tall, impressive mare who carried one foal herself before her import, as well as producing an outstanding filly by Tacorde via embryo transfer which KVF will retain. She has competed up to the 1.10m in Canada and shows plenty of ability to easily become a very competitive 1.30m+ horse as well as a top EQ horse. I-Edea is straightforward to ride and goes in a simple snaffle, she is very brave and is always willing to work. Through COVID she has been gaining more valuable miles on the flat, hacking in the field alone or in groups and jump schooling. If you are looking for a talented, scopey horse with a great pedigree and excellent temperament, I-Edea is your horse.
I-Edea's dam Edea is by Indorado, who competed at the Grand Prix level for many years and is known for passing on his large, long lined frame, and endless amounts of scope. He is also well known as a great broodmare sire.
I-Edea's sire Dallas VDL is currently competing at the Grand Prix level. He is a modern stallion with excellent gaits, good technique, lots of scope, and is very careful. His offspring are strong and correct, with powerful canters.