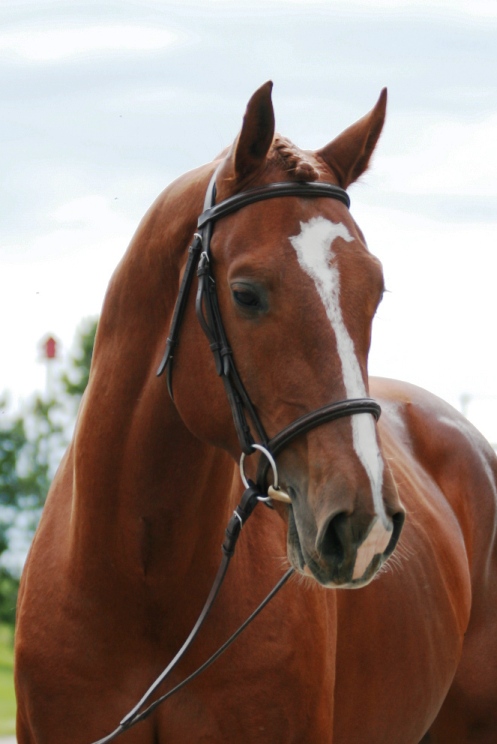 Hiroko
2012 Chestnut 16.3 hh Approved CWB and Bronze Premium CSH
Tacorde x Burggraaf x Voltaire x Dulf

Hiroko is a lovely young stallion with an excellent temperament and huge jumping ability.
We are proud to report that Hiroko has been sold to a top jumper program to be developed up the levels by a young amateur rider. It is always our goal to breed horses who are competitive both with professionals and amateurs alike and Hiroko is a fine example of that!
Hiroko is a tall, long legged, athletic young stallion who shows the aptitude to be a top show jumper. He is a short coupled horse with an excellent hind leg and shows good push from behind in all of his gaits and an especially good canter. He is being campaigned in the young horse jumper division with a focus on proper development for the top levels of sport. He was awarded scores up to 90% in the 4 year old young horse classes and proved to be very brave and careful, always going to the fences with enthusiasm while still being very ride-able. He was a demo horse for the Jump Alberta symposium and the guest clinician Candice King absolutely loved him saying that he is the type of horse needed for the upper levels and that she would be proud to have him in her barn! At his licensing Hiroko received an overall score of 7.64, his conformation score was 7.83 with 8 or 9 for his Neck, Saddle Position, Forelegs, Hind legs, Jumping, Gallop and General Impression! His first foals have arrived and he is stamping them with long legs, good length of back with excellent neck sets.
Hiroko's sire Tacorde was a fixture at the FEI level of show jumping for a full 6 seasons! He was known in Western Canada as the big horse with even bigger scope with all the white. Tacorde has passed on his big scope, his great canter and his love of jumping to Hiroko. Tacorde is producing medium sized horses with good balance of bone, great canters who are very brave to the jumps and have big scope and good technique. From very limited offspring his oldest are competing up to 1.30m with his foals from the best show jumper mares just starting their show careers.
Hiroko's dam Rosario T was shown under the name Roost T, she competed at the young horse World Championships in Lanken at the age of 6 and then was successful up to 1.45m before her import to Canada. Rosario is a beautiful type with an excellent top-line and good, solid legs, she jumped in perfect technique with plenty of scope. Her sire Burggraaf has produced countless upper level jumpers as well as several top dressage horses and is now sought after as a top broodmare sire. Hiroko is Rosario's second licensed son, her third offspring, a full brother to Hiroko was bought by a professional as a GP jumper prospect.

Gallery:
Offspring: