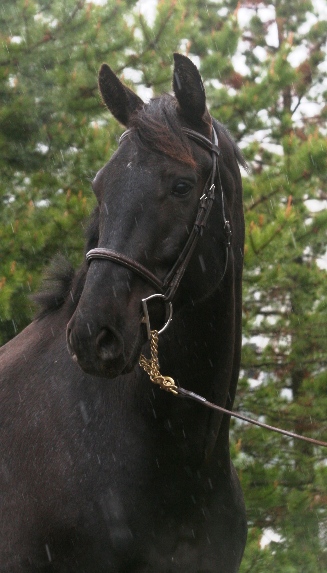 Cordell
2007 Black CWB Gelding 17.1+ HH
Regardez x Ferro
Cordell is proving to be a very fancy hunter prospect in a gorgeous black package
Cordell is a long legged tall gelding who jumps in excellent technic with a lovely canter. He is jumping courses with his lead changes nearly confirmed and is ready for his first show. His trot is fluid and reaching, he knows all of his lateral work as he was started as a dressage horse and just over the winter has began his over fences training and shows to be brave with that classic hunter form and plenty of scope for the Derbies. This tall athletic gelding is forward thinking and very light to the aids so even a smaller person can ride him but he is big bodied enough for a very long legged rider. Cordell has the scope and bravery for the hunter derbies with a huge step. He has now been to his first show, where he handled everything like a pro.
His sire Regardez made a name for himself winning in Hunter Derbies all over Western Canada.
His dam is by the very influential Ferro who was one of the top Dressage sires of his era and many of his offspring where also very good jumpers.
Price: Sold Congratulations Rita Condon AB