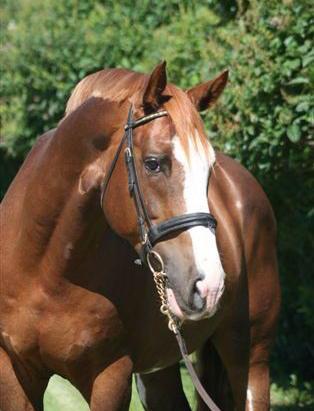 Tacorde
2000 KWPN Chestnut 17.2 HH Approved GOV, CWB and Gold Premium CSH
Concorde x Goodtimes x Damiro x Aktion

Tacorde is a big solid horse who successfully competed at the FEI level of show jumping for 6 years.
Tested Negative for WFFS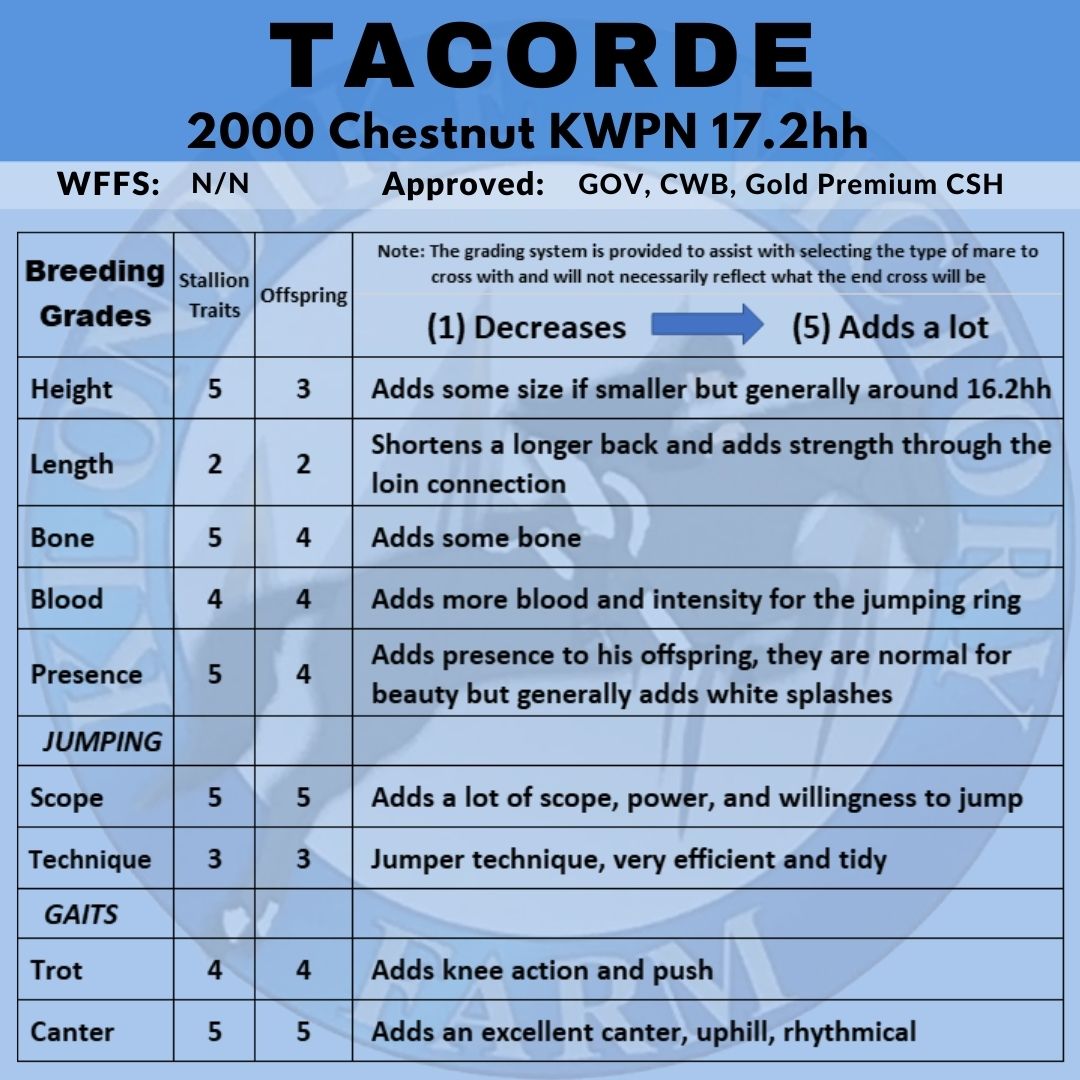 Tacorde was a fixture at the FEI level of show jumping for 6 seasons before being retired with earning of over $100,000. Some of his career highlights include winning the Spruce Meadows indoor GP's 2x, being top placed at Brandon in almost every GP ever entered, a 3rd and 5th at Omaha International, jumping 4 clear rounds at RMSJ in two weeks and being one of the top earning horses at RMSJ in 2013, as well as being on the top 10 in Canada for money earned in 2013. Clearing 2x 1.98m during puissance competitions as well has having double clear rounds at Spruce Meadows in the International ring. Taking his rider from the local GP level all the way up to the World Cup Qualifier level, he always forgave mistakes and came out ready to try hard no matter what and he loved a crowd!
Tacorde has been bred on a very limited scale before his retirement and his offspring are just starting to make their mark in the show jumping ring, so far up to 1.30m level with his best bred foals still moving up the ranks. His foals out of good show jumping mares are being sought out by top professionals to develop them as upper level horses and high end resale prospects. He has produced top scoring mares in Canada with the CWB, all in recent years being awarded premium status. He also has 2 approved sons, one standing in New Zealand and one is Canada. Tacorde adds a great canter, excellent hind-end with very well balanced bone and a strong top-line to his foals as well as the scope, heart and desire to jump. His foals are moderately sized and come with a good splash of chrome. His daughter Izzabria 2013 Tacorde x Calvados mare who was the western Canadian 5 year old jumper Champion and is now doing the 1.20m with her amateur rider. Son Graffiti 2011 Tacorde x Burrgraaf gelding who is winning in both the EQ and jumper rings with his amateur rider.
Tacorde's sire Olympic Concorde was named Horse of the Year in Holland in 2004 and was the number one producer of show jumpers by money won in the USA in 2002. He also spent many years at or near the top of the WBFSH. His international offspring are numerous including Audi's Jikke, Kathja, Conquest II, Larino, Viktor and Isabella. Concorde was the youngest stallion ever to be awarded preferent, due to his endless list of national and international children. Concorde was elected Horse of the Year in 2004 and is the highest ranked KWPN stallion in the top ten of the WBFSH.
Tacorde's dam Narcis W was by Goodtimes who has produced many successful horses in both the jumper and dressage rings and several approved stallions. Goodtimes is known for producing offspring with excellent conformation, good looks and athleticism for any discipline. Narcis W's grand sire on the bottom is Damiro who is known for adding tractable minds and more great athletic ability.
Tacorde is approved with GOV, Canadian Warmblood and has received his Gold Premium with the Canadian Sport Horse Association from his wins in the Jumper ring.
Gallery:
Offspring:
Videos:
Tacorde at Thunderbird August 2011 1.40m and 1.50m Grand Prix's
Tacorde in the 2012 Puissance jumping 1.97m in costume
Pedigree: