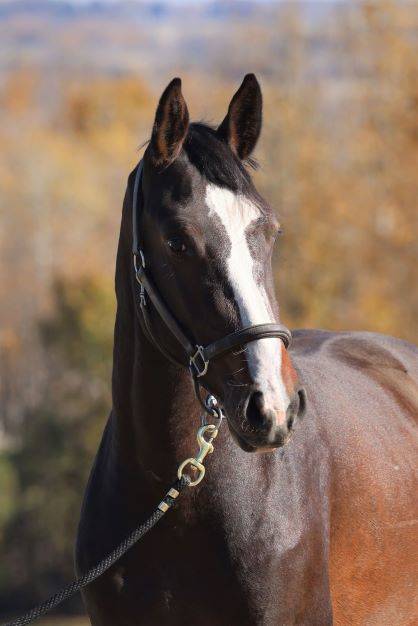 O'Concor
2019 CWB Bay 16.2 HH Stallion
Tacorde x Carthago x Voltaire
O'Concor is a 2019 bay stallion who will mature in the 16.2hh range. This short coupled, modern stallion has what it takes to be a top competitor as well as a great producer. He jumps in excellent technique, is like all Tacorde offspring, very careful yet brave and shows a wonderful canter. His temperament is second to none, he has lived his whole life in a herd with geldings and is just the most chill and social young horse. So far, he is showing to be very trainable and absolutely loves attention, he is always the first to greet you in the field. His conformation is very correct with great balance and plenty of bone, he has a lovely topline with an exceptionally well-connected loin and hind leg. The icing on the cake is his four high white socks, belly spot and big blaze.
He is by Tacorde who himself competed at the 1.60m level in Canada. He had tremendous scope, extreme carefulness yet was still incredibly brave as well as being an intense competitor. Tacorde has bred on a very limited scale but has proven time and again to pass on all of his best qualities while not making his offspring too big. Tacorde now has his first offspring competing at the 1.50m level and has many who are at the 1.30m level who are all being ridden by young riders who are competing for the first time at these levels. His 8 year old daughter Ilana was just crowned champion U25 at the Canadian Championships.
His dam Chiara W Z herself competed up to the 1.50m level with her then Jr rider all over NA as well as Europe. Chiara was an absolutely gorgeous mare with long legs and great balance which she has passed on to O'Concor. She was a real competitor in the ring, always trying to jump clean and fast yet very ridable. Chiara had two foals before going into sport the first one Zycalin W s.Berlin competed up to the 1.60m level and at 18 is still competing with a young rider. Her second offspring Aziza W s. Carinjo HDC competed to the 1.30m level before becoming a broodmare, her oldest offspring Ermindo W s. Singapore competes at the 1.60m level and was the alternate for the Swedish Gold Medal winning team at the 2020 Tokyo Olympics. The rest of this incredible dam-line is packed with 1.40+m competitors with many of them being ridden by young riders. Chiara is by Carthago Z who brings his power and incredible hind-end to the mix, she then goes back to a Voltaire x Apple King mare who brings forward plenty of blood as well as a double dose of carefulness.
O'Concors Dam Chiara W Z Video