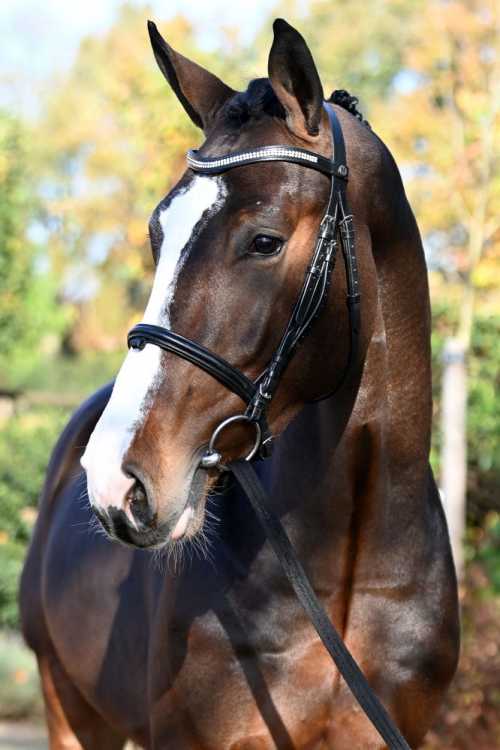 Nesquick TN

2018 Bay KWPN 16.2hh - Licensed AES & CSH

Eldorado Van De Zeshoek x Quantum x Papillon Rouge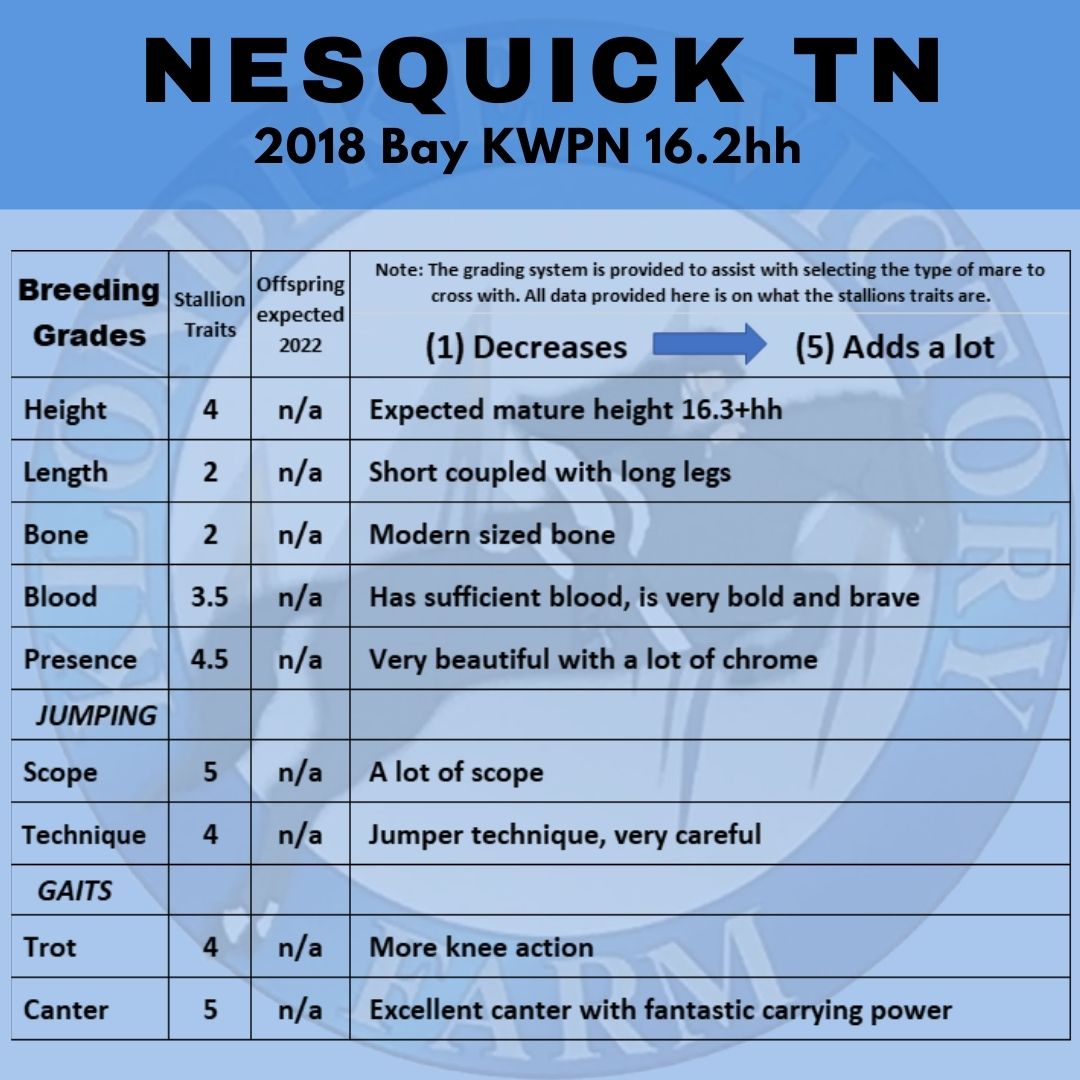 Nesquick TN is another lovely, long legged, longer lined, modern type who combines some very interesting bloodlines that are not readily available in NA. He has a wonderful temperament, correct conformation, with exceptional movement and unlimited scope. We feel that he will cross exceptionally well on blood type mares who need more strength and power in both their movement and jump.

Nesquick's sire Eldorado Van De Zeshoek TN is the epitome of power and scope with not only himself competing at the highest level but so did his sire and dam. He was ridden on numerous Nation Cup Teams under Willem Greve and Willem said about him "He has unlimited scope and with his power he can jump all the classes in the world, I'm very happy to have him in my stable." Even though the majority of his offspring are under 8 years old Eldorado has already more than proven himself as a sire of top-level show jumpers and a sire of sires. Some of his most notable offspring are Killer Queen, Elektric Blue, Grandorado TN and Highway TN. To our knowledge Nesquick TN is the first Eldorado son to stand in NA.

Nesquick's dam Whisky stems from mare-line SF 7, the Quidam de Revel Mother-line. Whisky brings forward the foundation mare Nadine through both her bottom mother-line and a second time through Quidam de Revel himself through Quantum. She also carries the blood of the only full sister of one of the greatest foundation SF sires of this past century, Uriel who produced 50 approved sons who shaped both the SF and Dutch show jumping breeding. Whisky herself is ½ sister to no less than five 1.40+m horses and she has already produced a 1.50m show jumper Skara Glen's 7 Pillars who is ridden by the Irishman Paul O'Shea.

Whisky's damsire Quantum descends from the Holstein mare-line of 18b1 – Dorette, which is the 4th ranked female family in the world for the production of showjumpers. His dam is the full sister to Constant who sired the great Chin Chin. Quantum combines great rideability with scope and bravery which he passes on to his offspring and has numerous offspring competing at the GP level under amateur riders. Some of his most famous offspring include Quality Time TN, Quintero, Quin Chin and many in Alberta will remember the extremely competitive Lerche ridden by Tamie Philips.
Nesquick's sire Eldorado Van De Zeshoek TN

Nesquick's half brother Skara Glen's 7 Pillars, currently competing 1.50m under Ireland's Paul O'Shea


Pedigree: