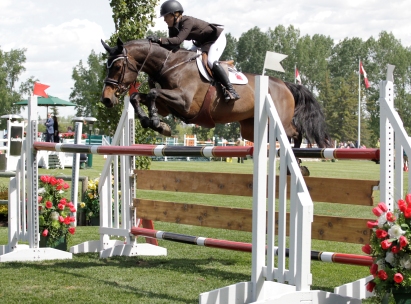 Chiara W Z
2000 bay 16.2hh imported Zangersheide
Carthago x Voltaire x Apple King xx
Offspring:
2004
mare
Berlin
Zycalin W
Bred in Europe
Competing at 1.60m
2005
mare
Carinjo HDC
Aziza-W
Bred in Europe
Competed to 1.30m - Produced 1.50m stallion
2018
mare
Tacorde
Nancy
2019
colt
Tacorde
O'Concor

Retained as a stallion prospect
2019
colt
Chacoon Blue
Oppenheimer
Sold
Chiara W Z competed up to the 1.50m with Kara Chad as a junior and retired from a successful career in sport. The young Chad bought Chiara as her 1.25m mount and they countinued to move up the ranks competing at CSIO5* events like Spruce Meadows. Before starting her sport career, Chiara had 2 foals both of which have gone on to be very successful. Zycalin W (s. Berlin) is currently competing at the 1.60m level and Aziza W (Carinjo 9) competed to 1.30m and has produced Ermindo W (s. Singapore) a Licensed Zangersheide stallion who is competing at the 1.50m level with Rolf-Göran Bengtsson.
Chiara's sire Carthago has countless offspring competing at the highest level of sport as does her damsire Voltaire.
We are excited to have retained her 2019 colt O'Concor as a breeding stallion.