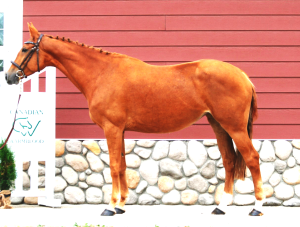 Bond Girl
2003 chestnut Westfalen Mare
Rahmannshoff's Bamiro x Efle de B'Neville x Grand Veneur

Offspring:
2021
Filly
Leeto Z
Riccochet

For Sale

Bond Girl is a lovely mare that has every bit of talent that her pedigree would indicate! We are excited to have added her to our breeding program.

Sire Rahmannshof's Bamiro is by the Legendary Baloubet du Rouet, ridden with great success by Rodrigo Pessoa for years at the international level. Bamiro himself had a notable career as well showing predominantly in the international 1.60m FEI classes around the world. On Bamiro's dams side is both Ramiro and Pilot, so there is no wonder with a pedigree like that, that he both had a successful career and produced many progeny with his level of ability.

Dam Maybe Des Johchieres's herself competed to the 1.45m level, and has also prodcued a 1.35m horse. Her pedigree's most notable names are Papillon Rouge and Grand Veneur. Papillon Rouge was the extremely successful son of Jalisco B. He was a solid horse, with a power that he used well and, in addition, he had the temperament of a winner, he was cheeky and mischievous. Indeed, not a horse for amateurs, nor were his sons, but he produced for the highest level of competition. Grand Veneur was a popular sire and was often France's leading sire based on the performance of his progeny at the national championships in Fontainebleau. Fourteen of his progeny won or placed at Grand Prix level. In all, he produced more than 335 showjumping winners.